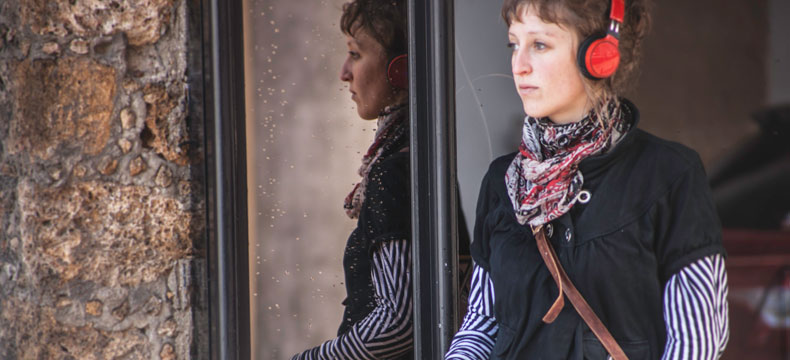 show >
La Disparition
An individual interactive experience
Experience the city through the lens of a detective novel
Presentation
In their latest project, LA DISPARITION, Begat Theater places portable media devices in the hands of an active audience. Each individual audience member experiences the story from the perspective on an "Investigator" who searches the city for a missing author. As the audience retraces her steps, synchronized sound, images, and live action blend together, leading each spectator to follow a trail of clues that draws him inside the pages of the missing author's most enigmatic story.
The story takes the form of a metaphysical quest. Assigned to investigate the disappearance of the famous mystery author Carlotta Valdez, you listen to and watch the audio notes and video memos she recorded as part of her writing process. As you listen in to her private musings, and while you follow her doomed attempts at writing her next novel, a picture begins to form of Ms. Valdez as an unstable woman suffering from intense writer's block. Under the pressure from her editor and publishers (who are pushing her to write a commercially successful sequel to her lucrative Melville Files series) and on the verge of cracking, she decides to kill off her main character and direct her attentions in a completely new direction.
> You find yourself tailing an ordinary woman walking down the street.
> You meet Carlotta Valdez's editor, who hands you a page of a manuscript: Carlotta's final piece of writing. It bears strange similarities to what you are currently experiencing.
> A hacker infiltrates your media device and talks directly to you: he is one of Carlotta's most passionate fans, and is convinced that there is a conspiracy mounted against her to boost sales. He guides you to discover evidence that was neglected by the official investigation.
> You get into the author's abandoned car, where she spent her last days. Her car has a story to tell.
> You walk in the author's footsteps as she follows her ideas all the way through. She lets go… and completes her masterpiece: "La Disparition."
Is there a crime being committed?
Or is all of this the work of an artist?
During the development of the piece, a first version of LA DISPARITION has been presented in 2014 in several towns. The fully developed version premieres in July 2015 at the Transnational Street Theater Festival "Chalon dans la Rue" in Chalon-sur-Saône, France.
Partners
CO-PRODUCTION

- Citron Jaune d'Ilotopie, Centre National des Arts de la Rue – Port Saint Louis du Rhône
- L'Atelline, Pôle Arts de la Rue Région Languedoc-Roussillon, dispositif Agiter avant Emploi en partenariat avec le Centre national des Ecritures du spectacle la Chartreuse à Villeneuve lez Avignon
- Animakt, Lieu de fabrique pour les arts de la rue, de la piste et d'ailleurs – Saulx les Chartreux
- Le Boulon, Centre national des Arts de la Rue – Vieux Condé
- The town of Palaiseau
- The town of Massy
- Scène Nationale de Cavaillon – Cavaillon
- Théâtre Durance, Scène conventionné pour les résidences de création – Château Arnoux / Saint Auban
- L'Abattoir, Centre national des Arts de la Rue – Chalon-sur-Saône
- Scène conventionnée pour les arts dans l'espace public  – Tournefeuille / Toulouse Métropole
- Théâtre La Passerelle, Scène nationale des Alpes du Sud – Gap
- La Paperie, Centre national des Arts de la Rue – Saint Barthélemy d'Anjou
SUPPORT
Direction Générale de la Création Artistique (DGCA), Conseil Régional Provence-Alpes-Côte d'Azur, Conseil Général des Alpes de Haute Provence, DICRéAM, Fondation Beaumarchais/SACD, Adami, Nicéphore Cité, pôle de développement et d'accompagnement de la filière image et son– Chalon-sur-Saône, EKITO-Toulouse, FACE Contemporary Theater Fund.
video
The teaser (2:30 min) – only in French for the moment, sorry !

And if you want to know even more about La Disparition, here is a link for the long version of the video (10:30 min) – but be careful, if you're planning on seeing the show, you better wait…
Photos